Asheville, NC
legal: click for full testimonial and typical results disclosure statement


Click play twice to start
"[You can] ...find out if there's even a feasible market. You know I started in this business in the early 90s when it was kind of 'blue skies' ... and a lot of it really was trial and error ... you would build a website and see if they come ... take your best ideas and put it out there and try to market a product or service based upon what we knew, ... and I've learned more and more as markets become more competitive and a lot of direct marketing is happening out there that market research is essential, and Glenn's model is superior to anything I've ever seen" -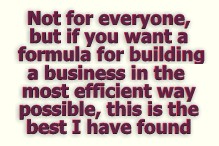 Click play twice to start

Click play twice to start
"I originally came to this seminar from the Perry Marshall advanced Google Adwords seminar, ... I saw Glenn's presentation there, and what it did was, first of all ... it matched my basic philosophy which is ... find a hungry market first, find out exactly what they want or need, and then give it to them, and then continue to give it to them. What Glenn showed me was a model that allowed me to do that consistently ... a reproducible system to do that"

Click play twice to start
"Getting to do some of the interactivity that we did at the end was really great. One of the things that stood out was Glenn's wife doing a live forum ... a focus group live, that was great for me, to have the insight of how that works. To get deeper into the hearts and the souls of people who are responding to surveys. That was a new component that really added a new dimension for me"

Click play twice to start
"[What Glenn taught me was ...] Don't try to trick people ... really find out what it is that they desire, and with integrity develop that information and, through that caring and doing the research, you'll always build a relationship that you can continue to build on, in marketing and in business, ... and I think that's a winning formula"